Patrick Quaggiato - the Conductor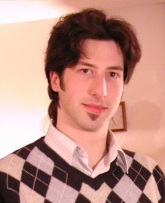 Patrick Quaggiato was born in Gorizia in 1983.
At 8 years old he began his musical studies in piano, followed by percussion studies at the Institute of Music of the "Città di Gorizia" Music Foundation, from which he received the prize for the best examination taken in the year 2003/2004, as well as a study prize in 1999.
After obtaining diploma at the "J.Vega" Technical Industrial Istitute to computering of Gorizia, he was admitted to the Voice Dialing and Choral Conducting class at the "G.Tartini" Conservatory of Trieste. He completed the three-year training for wind orchestras conductors, with which he became the "Città of Cormòns" Band conductor and then also the "Kras" Philharmonic Society of Doberdò del Lago. The course is launched by Anbima and Daniele Carnevali is the international fame teacher. He has also attended workshops with composers and conductors such as André Waignein, Hardy Mertens, Lorenzo Pusceddu; within choral with Andraž Hauptman, Georg Grün.
He currently teaches percussion, drums, ensemble, and music theory in several private schools in the Gorizia and Udine provinces. He has taught drums and music courses in primary and secondary schools.
--- Work in progress ---